Laguna Table Saw Reviews - The Complete Lineup From Fusion F1 to F3
Laguna makes some of the most popular tools in woodworking. Amateurs and professionals alike favor Laguna's saws, lathes and routers. 
Veterans to the woodworking industry know about Laguna's powerful yet lightweight lineup of equipment. The very popular Fusion lineup ranges from the 1.5 HP F1 to the 3.5 HP F3 with up to a 53″ Rip capacity.
Laguna's are known to be remarkably sturdy. Every one of their products comes with a two year warranty by the manufacturer that stands behind their product.
The 1.5 HP Fusion F1 Table Saw. Typically around $1100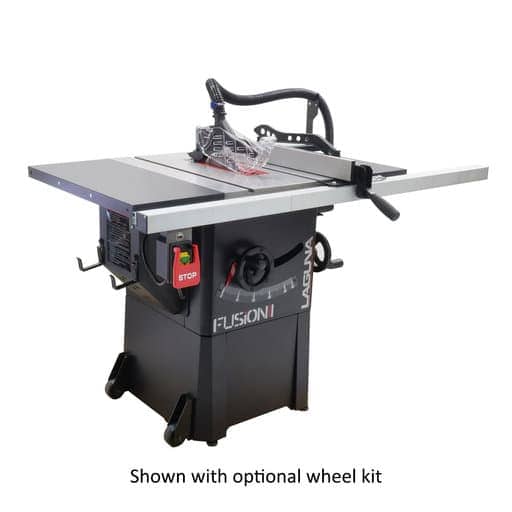 The Laguna F2 table saw comes in between $1500 – $1600 after shipping and 1.75HP
Laguna's Fusion F3 comes in at 3.5HP and either 36″ or 52″ Rip capacity
Laguna - Fusion F1 Table Saw Review (1.5 HP)
The Fusion F1 includes a built in dust collector and a surprisingly easily adjustable fence and table.
All of the Fusions are remarkably sturdy and accurate for being so lightweight.
Comparable saws to the F1 sell for 30-40% more and in my opinion don't stack up. This saw, along with the SawStop model are simply the best hybrid saws on the market.
Motor: 1.5 HP/110V
Motor Speed: 3450 RPM
Rip Capacity: 30″
Blade Size: 10″
Vertical Cut Height: 3-1/8"
Cut Height at 45°: 2-1/8″
Blade Tilt: 0-45° Left
Table Size: 27″L x 20″ W
Extension Wing: L27″ W12″ (x2)
Dust Port Size: 3-7/8″ OD
Machine Weight: 200 lb.
Laguna - Fusion F2 Table Saw Review (1.75 HP)
The Fusion F2 offers all of the features the F1 offers with slightly more punch and rip capacity. This saw is the one you want if you are scaling up your small woodworking shop, need a large, powerful saw that is still somewhat portable.
The optional wheel kit is unavailable of the F2 as it is heavier and more powerful than the F1.
Rip Capacity: 36″
Blade Size: 10″
Vertical Cut Height: 3-1/8"
Cut Height at 45°: 2-1/8″
Blade Tilt: 0-45° Left
Arbor Speed: 4500 RPM
Table Size: 27″L x 20″ W
Dust Port Size: 3-7/8″ OD
Machine Weight: 276 lb.
Laguna - Fusion F3 Table Saw Reviews (3 HP)
The Fusion F3 is one of the two top selling full-sized table saws. Along with the full-sized SawStop saw, the Laguna F3 offers the best engineering, the most accurate cuts, ample power and the industries highest rip capacity at 52″
This saw is roughly 70% cost of comparable Jet and Powermatic saws.
Motor: 3 HP/220V
Motor Speed: 3450 RPM
Rip Capacity: 52″
Blade Size: 10″
Vertical Cut Height: 3-1/8"
Cut Height at 45°: 2-1/8″
Fence: Double Rail Cam Action
Dust Port Size: 3-7/8″ OD
Machine Weight: 405 lb.
Laguna is a long established, US based manufacturer and their tools have become some of the most sought after pieces of equipment for amateur and expert woodworkers alike.
If you are interested in learning more about Laguna's offering of professional quality, US manufactured tools and how they can help you produce better woodwork and keep a cleaner shop, have a look at our Laguna Wood Lathe lineup or our Laguna dust collector lineup article.
Laguna Tools Customer Service
I've read mixed reviews of Laguna's support on various wood working forums. It seems as though the narrative is largely positive. The little experience I have had with their customer support team was very positive. 
I had a bent component (likely happened during shipping) and contacted them about it. They didn't ask for pictures or demand I show proof of purchase within the past 30 days like I had assumed they would. The support rep simply asked me to describe the component and asked where they could send me a replacement item to.
If you are currently looking to contact Laguna's customer support team, check them out here. If you are in the market for a new Laguna machine, have a look at their complete lineup at the minimum price that they allow and with free shipping here.
Laguna's history as told on their website:
"Laguna Tools was founded in 1983 by Torben Helshoj who saw an opportunity to bring high-quality European wood working machinery to the US. The first tools to be introduced were combination machines and soon lead to Laguna Tools' most iconic machine, the Italian Bandsaw. Over the years we built an extensive line of wood working machinery before moving forward with development of our own CNC Automation.

We launched our line of CNC Machines with the SmartShop and soon followed it up with the Swift and IQ machines. After innovating on the CNC Router end, we came out with even more advanced machinery such as CO2 Lasers and Plasma Cutters. Now we have a wider range of machinery available than ever before, all to help our customers achieve their goals to improve the way they do business."
Considerations When Selecting a Table Saw
Motor horsepower
The first features to look out for in selecting one of the best hybrid table saws is what your saw's power is. You'll find that having adequate power is helpful in adding control and accuracy to your cust. Power typically works hand in hand with the speed. If you plan to cut harder or tougher woods, or thick woods such as maple or walnut, then find a saw that has upwards of 2 HP. Generally, you'll want a saw with 3HP or above if you're a commercial woodworker. Hobbyists can get away with 1.5hp in most cases.
With this said, if you are a cabinet maker and you spend a large chunk of your day cutting with your tablesaws, it may be worth the investment to get a 5hp saw or even a panel saw for those that have the room in their shop.
Maneuverability
A lot of people choose hybrid saws based on their portability and their cutting ability. Of course, if the saw has both these features, it would be the definition of a hybrid. If you want a saw with good maneuverability, choose a hybrid saw that either comes with a mobile base or has one that is sold separately that it is compatible with. However, hybrid saws will never be light enough to haul from job site to job site.
Safety features
When it comes to saws, the safety features are very important. Such features will ensure that you and other people in your shop aren't in any danger while you use the saw. Some common safety features of hybrid table saws include a blade guard and SawStops safety break. The break will save your fingers while the blade guard will help you and other from accidentally touching the blade, regardless if the saw is on or off.
Price
Finally, you should also look at the price of the product. Most professionals look at filling their shop with great machines as an investment, and this is the right way to look at them. Search for a saw which will fit into your own budget. I'd highly advise that you don't sacrifice the quality of the saw for a low price. Quality products will make great cuts for decades, while cheap products are replaced within a year.
Instead, choose one with a reasonable price but is of high-quality. If you have the resources, you may also go for a high-end hybrid table saw with a hefty price such as a Powermatic or a SawStop. USA Supply Spot is the dealer we recommend to give you the best price.
In addition, if you run a professional cabinet shop or other commercial wood working shop, price should not be the deciding factor in which item you buy. I am of the opinion that purchasing the right tools for your shop and learning how to use it once will save you a tremendous amount of time and money in the long run
Dust Collection
If you have already been in the wood working industry for some time, you know how frustrating sawdust can be. If you have poor dust collection on your table saw you have to stop what you're doing every 20 minutes to clean out the excess. Or worse, you don't clean the dust and you end up with gappy projects because the dust accumulated and moved your wood over a sixteenth of an inch. (ask me how I know)
If you run a commercial wood working shop or you are a cabinet maker, it is particularly important for you to find a saw with excellent dust collection as you will be spending an hour per day cleaning up if you don't have the proper tools to do it for you.
What features should you look for When Looking at Table Saws?
Aside from the features that are specific each saw (listed in our review above), it would also be very beneficial to understand the practical features that come with every saw. These features will make it easier for you to use the saw at its highest capacity.
Blade guard
A lot of woodworkers don't like this feature, primarily because it get's in the way while they cut. Professionals have been in the shop long enough that they know to watch out for the blade, but this isn't always the case with newbie woodworkers. A saw's blade guard sits on top of the blade to help keep your (and others in your garage or shop's) extremities safe from harm.
Riving knife
On the other hand, the riving knife is a metal plate which stays behind the blade of the table saw. Its main purpose is to prevent the risk of kickback while you work. It can also be a splitter located behind the blade to serve the same purpose. This is another practical safety feature for you to consider when choosing saws.
Additional features
While it may go without saying that modern woodworking tools come equipped with a fence, you will also learn that not all fences are created equal. If you have ever cut with a flimsy jobsite tool you most certainly know that just because you set the width to be 5 inches, that doesn't mean that your cut will be exactly 5 inches. A poorly made fence will slide around which makes your cuts horrible inaccurate. If this happens to you, take it as a sign that it is time to upgrade the tools that you use.
Where Else Can You Compare and Find Tablesaw Reviews (and share your own comments)
If you are looking for more information than you found in this table saw review blog post, don't be afraid to reach out to other tablesaw owners on wood working forums and Facebook groups to ask what they have to say about the tools that they work with and what they recommend. These message boards could also be good resources for you if you are looking to buy used tools from other woodworking shops.