Laguna Band Saws Reviewed - Complete Lineup From 14|12, 14BX, 18BX & Industrial Models
Laguna makes some of the most popular tools in woodworking. Amateurs and professionals alike favor the Laguna saws, lathes and routers. Even more popular than their F1, F2 and F3 table saws are their bandsaws. I'm going to speculate that Laguna sells close to half of the bandsaws on the market today. Everything you could want in a bandsaw can be found in the Laguna line. Plenty of horsepower, built very sturdy, great throat capacity to resaw large stock and a 2 year warranty from a US based manufacturer that stands behind their product. Follow our reviews and get quality information.
Laguna Bandsaws at a glimpse
Laguna's bandsaw line starts with a full sized 1412. Typically around $1200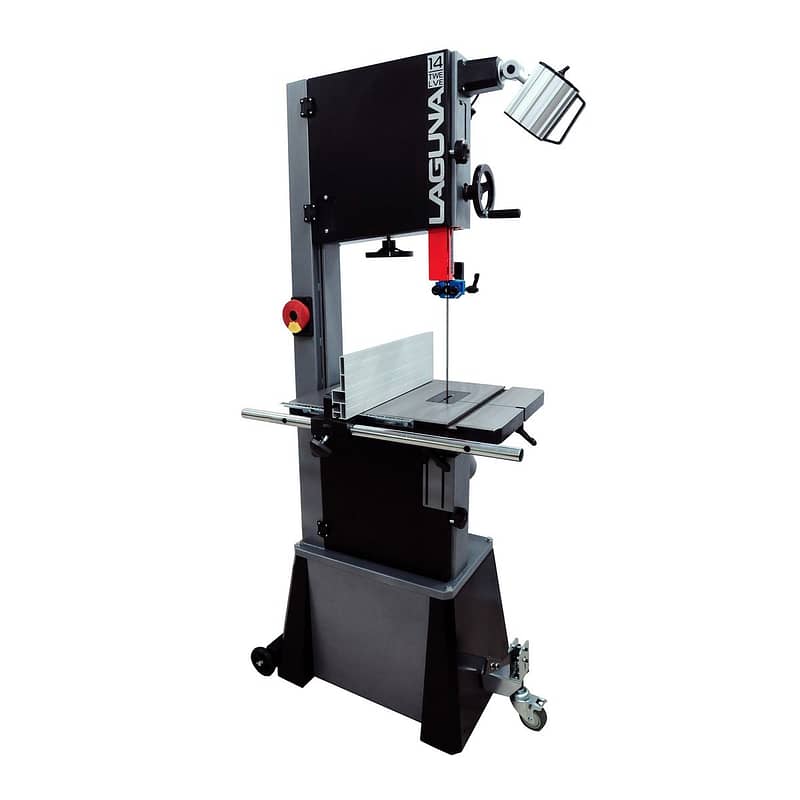 The 14 BX comes in between $1400 – $1600 after shipping and 1.75 – 2.5 HP
The 3 HP 18 BX dubbed the "resaw king" runs $1850 – $2K after shipping
Complete Laguna Bandsaw Review & Lineup
Laguna 14 12 Bandsaw Review(1.75 HP)
I would call this an entry level saw. However, it is anything but. This is still a professional level saw albeit the smallest model by Laguna for the price.
I've found all of Lagunas saws to be both lightweight and sturdy. In my mind, this can only mean one thing: well engineered. Available in both 110 & 220 Volt.
Specifications:
Motor: 1-3/4 HP
Resaw Capacity: 12″
Blade Length: 115″ 
Min. Width: 1/8″
Max. Width: 3/4″
Table Size: 21-1/2″ x 16″
Table Height: 38″
Table Tilt: 45° right; 7° left
Weight: 312 lbs.
The Laguna 14 12 is a step above the benchtop bandsaws. While it is a fullsized option and treats most woodworkers well. If you are getting a standing band saw to do resawing, you mind as well upgrade to the 18BX. The extra power will be needed and you'll save the money on blades by having a better motor.
Laguna 14 BX Bandsaw Review (1.75 OR 2.5 HP)

The primary benefit of the 14 bx when compared to the 14|12 is that it includes Laguna's patented disc brake that shuts the saw off automatically.
In addition to the braking system, the bx claims a more accurate, wobble free cut. Based on what the engineers have accomplished with their other saws, I don't doubt it. Available at 1.75 OR 2.5 Horsepower
Specifications
Power: 1.75 HP
Resawing Capacity: 12"
Throat: 13-5/8"
Table Size: 21-1/2" x 16"
Table Height: 38"
Table Tilt: 7 degree left; 45 degree right
2 – 4" dust ports
Blade length: 115"
Minimum blade width: 1/8"
Maximum blade width: 3/4″
Footprint: 17-1/2" x 22-1/2"
Height: 70-1/4"
Weight (Net/Ship): 260 / 320 lbs
The 14 BX is the most common Laguna Bandsaw sold. My question is "Why" this is not much less expensive than the 18BX. Just go with the 18BX and you'll be happy, it isn't too expensive of an upgrade.
Laguna 18 BX Bandsaw Review (3 HP)

Just as you may have assumed, the 18 bx is the larger cousin of the 14 bx and offers a full 3 HP  and 18″ capacity to resaw large stock. The 18 bx includes Laguna's patented disc brake that shuts the saw off automatically.
Specifications
Motor: 3HP
Recommended breaker: 20 Amp
Magnetic Starter
Min-Max Blade Width: 1/8" – 1-1/4"
Resaw capacity: 16"
Throat: 18"
Blade length: 145″
Disc-brake with micro switch
Cast Table: 20" x 26"
Table tilt: -6 degree, 45 degree positive
Hi/Low anodized aluminum fence: 22-1/2" x 5-3/4" x ½"
Table height: 77-3/4"
Dust port: 2" x 4"
Overall height: 77-3/4"
Base dimensions: 27" x 20"
Overall dimensions: 36" x 30"
Weight: 410; ship weight: 460
The 18 BX and comparable 18CX are great tools. These saws are some of the top sellers in the category. The only comparable ones are the Jet's and Lagunas that sell for 25 – 40% more.
Laguna is a long established brand and their tools have become some of the most sought after pieces of equipment for amateur and expert woodcrafters alike.
If you have interest in learning more about Laguna's lineup of professional quality, US built tools and how they can help you produce better woodwork and keep a cleaner shop, have a look at our Laguna dust collector lineup article.
Laguna Tools Customer Service
I've read mixed reviews of Laguna's support on various woodworking forums. It seems as though the narrative is largely positive. The little experience I have had with their customer support team was very positive.  I had a bent component (likely happened during shipping) and contacted them about it. They didn't ask for pictures or demand I show proof of purchase within the past 30 days like I had assumed they would. The support rep simply asked me to describe the component and asked where they could send me a replacement item to. If you are currently looking to contact Laguna's customer support team, check them out here. If you are in the market for a new Laguna machine, have a look at their complete lineup at the minimum price that they allow and with free shipping here.
I have never heard from a craftsman that has had a problem getting Laguna to stand behind their product. Much like Jet and Powermatic, if the product is defective in any way upon receiving it, they will issue a full refund and take the product back. It is however, important to note that you must register your product with Laguna within 30 days of purchase for your warranty to be active. To my knowledge, this is not something that other companies ask the consumer to do.
From their website: "New woodworking machines sold by Laguna carry a two-year warranty effective from the date of dealer invoice to customer/end-user. Machines sold through dealers must be registered with Laguna Tools within 30 days of purchase to be covered by this warranty. Laguna Tools guarantees all new machine sold to be free of manufacturers' defective workmanship, parts and materials."
Selecting the best band saw for your shop
If you are a commercial woodworker there's a good chance that you're looking for a larger, more powerful bandsaw than a hobbyist woodworker is. Some of the features that you may be looking for in a commercial bandsaw are:
Large throat with a sturdy fence for resawing
Ability to use a thick, strong blade for dense stock and resawing
Easy to adjust fence, blade tension wheels and a quick release lever (these features come in handy when you're on the bandsaw for hours every day)
Heavy duty aluminum throat plate and blade guide with a rack and pinion fence.
Full steel or aluminum build (smaller, less expensive bandsaws are often-times made with cast iron)
Easy to move mobile base (this is available in some large bandsaws, including the commercial Laguna models)
Superior dust collection capability
Ceramic guides coming stock with the bandsaw or at least having the ability to add ceramic guides
Most commercial woodworkers find that getting the right piece of equipment for their shop is more important than finding a bandsaw for the lowers price. There are table top bandsaws that can cut through thin pieces of wood and tight corners, but if you are looking at a Laguna, you're likely looking to do some more heavy duty woodworking.
Horsepower and blades needed for resawing
For woodworkers that are looking to cut thick woods such as walnut or hard maple, you'll want to choose a commercial strength bandsaw such as the Laguna LT18 or LT18 Resaw. The Laguna 14 twelve band saw is a great saw for those working out of their garage, but if you are looking to make bookmatched tables you'll want to use a specific blade such as the highly regarded resaw king blade that Laguna offers. The Laguna 1412 just doesn't have enough power to push a quality blade through thick, hard wood consistantly.
The idea of a band saw dates all the way back to 1809 when William Newberry received a British patent for this idea. Even after the patent they were still very impractical because the blades which were made back then were very inaccurate and were not durable at all. Back then, they didn't have the fancy technology of a quick release blade, cast iron wheels, dedicated dust port for dust collection, throat plate wasn't used, lack of light was always an issue etc. That was the technology back then and it was the main reason why bandsaws didn't catch on right away. The constant tension and flexing of the blade over the wheels always managed to cause either the material or the joint welding it into a loop to fail. It took 40 years for the welding issue to be resolved. 
How the Bandsaw Started to Spread
The welding issue was resolved by Anne Paulin Crepin, a Frenchwoman who applied a patent in 1846 and even sold the right to employ it to manufacturer A. Perin & Company of Paris. New steel alloys were used in this method along with advanced tempering techniques which helped Perin create the first modern bandsaw blade.  In America, the bandsaw patent was granted to Benjamin Barker in January 1836. He made the first factory which made commercially bandsaws available in the U.S. which were made by the design of Paul Prybil. Power hacksaws which had reciprocating blades were very common in various metalworking industries but as time went by bandsaws and cold saws displaced them since they were simply much better  and had more features.  Changing blades has always been a simple process in bandsaws and these blade changes have become a common feature which helps keep the cuts to a maximum efficiency.
Where Bandsaws are typically used today
Residential and light industry
There are a lot of workshops in residential garages and even basements that contain small to medium-sized bandsaws that they use to cut wood, metal and even plastic. The blade can usually be switched out and changing the bladed is usually an easy process. These features are always present in a wood cutting machine.  Most of these are vertically mounted on a cabinet stand or a type of bench but in these modern times there are portable power tool versions which include cordless models thus allowing contractors to bring them along on the job and have a mobile base of sorts. These machines are usually made from cast iron with cast iron wheels but modern ones have a steel frame with ceramic blade guides a lot of more horsepower and a lot more features. 
This type of saw is always made of stainless steel construction and have a specific work light attached along with an easy to clean feature. The blade has different capability and they can be either with fine heat treated teeth, or just plain or scalloped knife edges. The saw blade is easy to adjust to accommodate the shop and their requirements. 
Metal Fabrication and Machine Shop Models
This type of bandsaw comes in both vertical and horizontal design and is dedicated to industrial metal-cutting. This includes structural steel in fabrication shops and bar stocks for a machine shop. These type of machine operate at a much higher speed and because of that they requires a special cooling system and usually operate with special cutting fluids. These liquids wash away sward and keeps the blade cool and lubricated.
Horizontal Metal Cutting Bandsaws
These types of bandsaws hold the workpiece stationary so that the blade can swing down through the cut. This type of machine is fairly common when cutting long materials such as bar stocks and pipes. Because of this almost all machine shops benefit from having a horizontal band saw. This saw is a horrible choice for cutting any types of corners or complicated shapes. This type of saw works in a specific way. An operator raises the saw before cutting, places the workpiece underneath the blade and just turns the machine on. The blade then slowly starts descending into the material making a precise cut as the machine moves. Once the cutting is completed a switch is tripped and the saw turns itself off.  Modern and more sophisticated models exist which have more blades, blade guides and even a dedicated blade guard. Most of them are almost fully automated and are used for high-volume cutting of machining blanks. 
Vertical Metal Cutting Bandsaw
This type of machine is called contour saw because it keeps the blade's path stationary while a workpiece moves across it. Because of the design this saw is very good for cutting complex shapes and angles. Each workpiece can be manually fed or this can be done with a power assist mechanism, it depends on the type of saw that they have. The vertical metal cutting saw usually has a built-in blade welder which allows the operator to easily repair broken blade and fabricate new ones quickly. This helps adjust the blade which in turns provides quality cuts on the saw. A vertical metal cutting bandsaw usually has a built-in air blower which helps keep the blade cool and blow away chips from the cutting area. This feature also exists in woodworking variants of the saw. These woodworking variants are usually of much lighter construction with a weaker motor and power, and some even have wheels and usually none of them have an incorporated power feed mechanism, coolant or welder.
Timber mills use a large saw for a process called ripping lumber. These type of bandsaw is the preferred choice over a circular saw for ripping because it's very easy to accommodate large-diameter wood and since they have a smaller cut size less wood is wasted. Smaller portable sawmills exist and usually consist of a shop size bandsaw which is usually mounted on a guiding table. Chain saw mills can be used inexpensively when out on the field and can be used by one or two people. 
A bandsaw in a full-size sawmill has blades which are mounted on a wheel system. The diameter needs to be large enough not to cause metal fatigue which can happen quite easily since the blade repeatedly changes from a straight profile to a circular one. The tension is very high on this type of saw. Due to the size of the machine extra features must be installed. They need to have deformation worked into them that counteracts the tension and heating of the operation. Benching ( as it's called ) needs to be regularly maintained  in order for it to work at an optimum level. 
Timber mill bandsaw maintenance
The sawyer and sawfiler need to regularly maintain the grinding wheel profile by dressing the wheel periodically. The tooth gullet is highly optimized and always varies according to both the mill and type of wood. When the blade is manufactured it has a specific shape for the tooth gullet and this shape is automatically maintained with each sharpen. The tension will break the blades unless properly maintained. 
Tracking a blade is very important in order to accurately cut and avoid breaking the blade which is already under extreme tension. Make sure that the band wheel or fly wheel are co-planar. This process can easily be done by placing a straightedge across the front of the wheels and then adjust each wheel until they touch. Regularly check the tracking progress by rotating the wheels with a blade already in position and tensioning it. Once this is done, install the blade guides rollers and make sure that you leave a 1mm gap between the guide flange and the back of the blade. Sometimes, the teeth which are too narrow will foul the front edge of the blade guides thus resulting in a drift which you will need to fix. This is done by cutting off a small step on the front edges of the blade guides rollers so that the protruding teeth can be accommodated. 
This type of bandsaw is large and it's used to make initial cuts on a log. They have distinct features such as a tooth space of 2 to 3 inches ( 51 to 76 mm ) on the cutting edge accompanied by silver teeth on the back. These blades are not for cutting and are actually used to remove the silvers ( sawdust ) from the cut when the blade needs to back out. Today, modern head saw is used to cut logs which are 16 to 72 inches in diameter, depending on what kind of band mill this saw is mounted on. This saw has a strong motor which can cut from 1 to 300 feet per minute (0.30 to 91.44 mm per minute). These speeds are optimizable  so that they can provide optimal performance and cutting speed. 
Resaws (commercial bandsaw)
A resaw is typically a large bandsaw which is optimized for cutting timber along the grain so that it can reduce larger sections into smaller ones or veneers. This process requires a large blade which is 2 to 3 inches ( 51 mm to 76 mm ) with a small cut size to help reduce the waste while cutting. Blades which are commonly used for resawing can be fitted on a standard bandsaw, if they are 1icnh ( 25mm ). People usually resaw in order to get the most from their stock because with proper cutting, you can get two boards from the same piece.
Final Thoughts on Bandsaws
The band saw has been around for more than two centuries and once the welding issue was resolved and technology was advanced enough to make a better and stronger blade, the bandsaw started selling all around the world and it found its place among the workshops. Once the first reviews came in, people got interested in the power of this machine and soon it was implemented into the metalworking industry. The blade tension didn't cause any problems and the cuts were smooth and consistent with little to no drift. 
Modern bandsaws have much stronger components and included features only increase with the price of the machine itself. Cast iron frames and cast iron wheels have been replaced with steel components which in turn provide accurate cuts with little to no effort. We can only expect this machine to improve and eventually outperform the current design, but until then keep cutting and stay safe.