JET Table Saw Reviews - The Complete Lineup Deluxe Xacta and Proshop
Jet Tools offers quality tools and is considered one of the top names in commercial and professional level equipment. They have various woodworking, metalworking, lifting systems, air tools and other various equipment for sale. 
On their website everything is categorized so you will have no problem finding what you're looking for, whether that's a new lathe, bandsaw, dust collector, drill press, table saw, planers, jointers, sanders and many, many more machines to choose from.
Their most famous table saws are the B3NCH Series,  Deluxe Xacta and Proshop variants. These saws go from as low as 1.75 hp all the way to 5 hp  and these variants have a minimum of 30″ rip blades all the way to 52″.
It's time to get serious in your shop and get yourself a proper table saw from JET. Depending on your preference and have the option to choose from their lineup and no matter what you need, they have a great selection of table saws. 
JET ProShop 2 Table Saw With Steel Wings 30″ Rip Capacity 725004K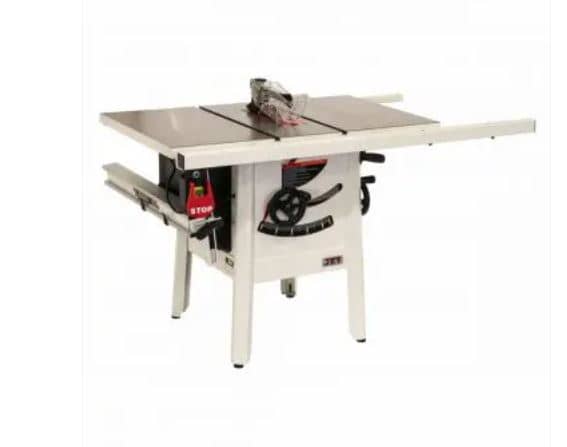 JET 3 hp 1PH XACTASAW Deluxe 50″ Rip Capacity 708675PK
JET - ProShop 2 Table Saw Review
The ProShop Table Saw from JET has a couple of features which you'd expect a high end cabinet saw to have. This table saw has a compact design similar to a contractor-style machine. 
It has a distinct transparent blade guard with independent leaves. Having a quick release knife helps reduce the unwanted chance for a kickback and it also features a low profile riving knife with an arbor lock which helps with blade changes. 
Motor: 1-3/4HP 115V 1PH
Arbor Speed: 4000 RPM
Rip Capacity: 30″
Blade Size: 10″
Maximum depth of cut: 3-1/8"
Cut Height at 45°: 2-1/8″
Blade Tilt: 0-45° Left
Table Size: 27″W x 20″L
Table Size with Extension (L x W) (In.): 44 x 27
Dust Port Size: 4″
Machine Weight: 302 lb.
The ProShop variants are considered entry level woodworking table saws but overall they offer great performance but are far from premium quality.
JET - XACTASAW Table Saw Review

Start working much more safely and efficiently with a brand new Jet 10″ XACTASAW Deluxe. This table saw features a Poly-V belt drive system which helps it operate smoothly with optimal power transfer along with a shrouded blade which will help with efficient dust collection.
This table saw has 26″ x 30″ wings along with a deeper trable so that you have more cast iron to work on. The storage drawer is built-in the machine and it's 12.5″ x 18″ x 4″. With this drawer all your necessities will be within arm's reach. The XACTASAW Deluxe also features a miter gauge storage along with an on-board fence. 
Rip Capacity: 50″
Blade Size: 10″
Maximum depth of cut: 10″
Cut Height at 45°: 2-1/8″
Blade Tilt: 0-45° Left
Maximum Diameter of Dado:8″
Maximum Width Of Dado: 13/16″
Miter Gauge Type: Deluxe
Table Size: 29″L x 20″ W
Dust Port Size: 4″
Table Type: Cast Iron
Overall, the Jet XACTASAW is a great platform for intermediate and professional woodworkers alike. The Jet name is found in Cabinet shops and millworking facilities all over the country and is trusted as one of the top names in woodworking.
Jet Tools offers quality tools and is considered one of the top names in commercial and professional level equipment. They make machines for woodworking, metalworking, lifting systems, air tools and other various equipment can be found for sale there.
On their website everything is categorized so you will have no problem finding what you're looking for, whether that's a new lathe, bandsaw, dust collector, drill press, table saw, planers, jointers, sanders and many, many more machines to choose from. If you're interested in finding out more about JET, check out our article here. 
JET Tools Table Saw Models
The JET Tools table saw lineup is rather small with just two models which are ProShop 2 and XACTASAW Deluxe with each having 4 variants per model. 
The ProShop 2 table saw has a single called JPS-10 which is a 1.75 HP 115V saw which comes with either cast wings or steel wings. The model itself has a capacity of 30″ and they have a 52″ variant as well. These two models are almost identical to each other with the most obvious difference being the maximum rip right of blade being 30″ or 52″ respectively. The 30″ variant has a higher recommended circuit size of 20amps with 14.8 motor amps but the 52″ variant has 10 amp recommended circuit size with 7.4 motor amps. These three things are the only difference in the ProShop variants.
The Deluxe Xacta SAW comes in two models which are the Deluxe Xacta 3hp and 5hp. Each of these two branches out into two more variants respectively with both having a 30″ rip capacity and a 50″ rip capacity. 
Other than the increase in HP from 3 to 5 , rip from 30″ to 50″ and motor amps from 14.5 to 18 there are no other major differences between these two models. The only little difference is the built in cabinet drawer on the 5hp model.
JET Tools Customer Service
JET Tools have a very positive reputation when it comes to maintenance and repair. The tools they sell rarely have problems so their customer service is almost always available for a chat. 
Their website shows that they truly believe in their products and they are ready to stand behind their work. They have a few warranty options and overall they range from as low as 90 days for consumables and can go up to 5 years and even limited lifetime warranty on some products in the woodworking and machinery category. 
They also provide a dedicated customer relations phone number, distributor hotline and technical service. These numbers seem to be available only during work days from Monday to Friday and from 8 am to 5 pm.
JPW Industries owns JET Tools and they stand by their initial goal, to be a supplied you can depend on. They originated in 1958 when their founder  Leslie P. Sussman took the first Boeing Jet Airplane trip from Seattle, WA to Japan. 
The journey began as a small dealer for manual chain hoists and trolleys. They had only one store in Tacoma, Washington and over the years JET has carried everything from electric chain hoists, to air hoists. In the year 70s, they introduced a full line of industrial air tools and material handling products such as paving breakers and backfill tampers and even forklifts. 
During the 80s metalworking products became the core business line for JET and because of their exponential growth 5 years later they even launched a woodworking product category. They were pioneers in the import business because they were working with overseas partners and suppliers. We can see on their site that they still work with one of their original partners.
In the 90s JET became much more than just an importer of high quality machines, they began making them. Highly skilled engineers from both within the USA and overseas started working on the designs and since they have a world-class supply chain this helped ensure fast delivery of quality and affordable products. 
White is their current official color but that wasn't always the case. Their colors have changed from blue, to green and even orange. The product lines have grown and the distribution centers have only expanded. Much has changed in the company and they pride themselves to bringing products to their consumers and working with world class distributors. 
Considerations When Selecting a Table Saw
Motor horsepower
Some people forget that the stronger the motor, the more RPM you get and checking the motor horsepower is the key factor here.  Having enough power will help you cut more accurately and have bigger control over those cuts.  Power typically works hand in hand with the speed. A lot of woodworkers work with tougher materials or thicker woods such as maple and walnut. Because of this, having a saw with 2hp or more will be much more beneficial. Depending on what you do and how much work you're doing, having a table saw above 3hp is ideal but hobbyists can use weaker ones without too much of an issue. 
With this said, if you are a cabinet maker and you spend a large chunk of your day cutting with your tablesaws, it may be worth the investment to get a 5hp saw or even a panel saw for those that have the room in their shop.
Maneuverability
If you have a saw which is portable and has cutting abilities then you're talking about a hybrid saw. The choice is easy to make because they get maneuverability and adequate cutting potential. It's impossible to find something that is light, maneuverable, can cut anything and is cheap. Most of these saws are heavy and usually come with a mobile base. You need to make a choice on what you're interested in working on, what kind of wood will you be cutting and how important will it be for you to get straight, accurate cuts. 
Safety features
Nothing is more important on your table saw than the safety features. The features will ensure you and everyone in your shop are in no danger while you're using your table saw. The most common safety features are the riving knife and blade guard.  The break will save your fingers and the blade guard will prevent you and others from accidentally touching the blade, regardless if the saw is on or off.
Price
Finally, you should also look at the price of the product. Most professional woodworkers invest in their shop by filling it with great machines and this is the best way to look at it. It's important to look for a saw which will fit in your current budget but make sure to not sacrifice the quality of the saw . Buy products from reputable sellers so that the quality you receive will allow you to make great cuts for decades because cheaper options are usually replaced in a few years. 
When you get one which is reasonably priced and is of high quality you can expect great performance for years before you even have to think of replacing it. This is usually the case with JET table saws because they they are very reasonably prices and offer great performance. We suggest USA Supply Spot dealer for any table saw at a reasonable price.
If you have a professional cabinet shop or some other commercial wood working shop, you should definitely not be looking at the price. Purchasing the right tools for the job and learning how to use them will be beneficial in the long run and will actually help you save money. 
Dust Collection
If you've been a woodworker for some time you know what kind of problems sawdust can cause. This is especially the case for people who have cheap dust collectors mounted on their table saw. Smaller ones have to be cleaned quite frequently since excess sawdust is hazardous. If you decide to be brave the dust will accumulate and eventually your cut will be off by like a 16th of an inch and you'll have to start all over again.
Regardless if you're a cabinet maker or you have a commercial wood working shop, having a quality dust collector for your saw will save you precious time where instead of cleaning filters you will be cutting wood and making money. Let the tools work for you.
What features should you look for When Looking at Table Saws?
Each table saw has it's own specific set of features but it's very beneficial for you to understand what each feature represents and why you should look for it.  These features will make it easier for you to use the saw at its highest capacity.
Blade guard
There are way too many woodworkers that do not like having a blade guard because it usually gets in the way while they are cutting. Professional woodworkers have been cutting wood for so long that they are fully aware of their surroundings and feel that they don't need protection from the blade because they know not to touch it. This feature is amazing for new woodworkers since a saw's blade guard is on top of the blade which will help you avoid cutting something else other than your wood piece. 
Riving knife
A riving knife is a metal plate which stays behind the blade of the table saw. This feature prevents kickback while you're cutting and helps reduce that risk greatly. It can also be a splitter located behind the blade to serve the same purpose. This is another practical safety feature for you to consider when choosing saws.
Additional features
Most modern woodworking machines come equipped with a fence but you will quickly learn that not all of them are created equal. Just because a width is set to 5 inches, due to a bad design, or simply low quality your cut will not actually be 5 inches. That can be really frustrating, especially when you're looking to make quality, accurate work. Poorly made fences make horrible inaccurate cuts and if this happens to you, you know it's time for an upgrade. 
Where Else Can You Compare and Find Tablesaw Reviews (and share your own comments)
If you're interested in finding out more information regarding table saws you can look for wood working forums, social media groups and similar which will have like minded people who usually talk about the tools they work with, what they recommend other people use and similar. These places also offer great choices to find quality dealers to get your tools at a cheap price.