JET Dust Collector Review - Complete JET Cyclone and Vortex Cone Reviews
When you're busy cutting up pieces and making some amazing woodworking you will notice that the amount of dust that has accumulated can be hazardous. Some of this dust is so small that you can't even see it, and this type of dust is considered the most dangerous. If you care about your health you need to invest in a suitable dust collection system.
It's a common fact that if you're working with wood, dust will be flying everywhere and that is why having a quality dust collector will be crucial for your workshop. It will actually be the most important piece in your entire workshop. In this article, we will focus on the JET dust collector lineup.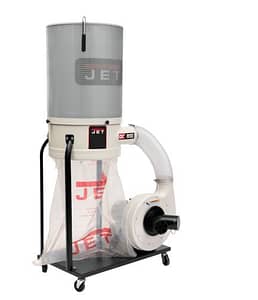 Why Purchase A Dust Collector?
It's a common misconception that sawdust isn't dangerous unless you inhale it. Problem with that is, most of the dust is so tiny you can't actually see it. That's why having a proper way to keep a workshop clean is required. Using any type of power tools will accumulate enough dust to be considered hazardous. It's important to stay safe because your health is the most important thing in the world. 
Breathing in sawdust will cause serious health problems and we know you don't want that. A dust collector will fix this problem by removing very high volumes of particles in the air. This will help keep your workshop and your tools dust-free. You definitely don't want to be breathing in impurities. 
Why Purchase A JET Dust Collector?
Choosing any JET hardware provides some very nice benefits and features that every woodworker needs.  Their lineup is state-of-the-art and provides adequate features. JET tools have always been quite cost-effective and their lineup offers two famous models which are the JET Cyclone Dust collector and the Vortex Cone Dust collector.
Overall it's efficiency you've been looking for. Their models offer a direct mount filter, remote control and a standard large collection bin for dust collection. With these features you will take your workshop to the maximum and on a brand new level. By upgrading to a JET Dust collector you get to experience the power of efficiency. Their models vary in size, the type of bag they use and overall horsepower. The models range between 1hp to 3hp with the best bag size being 1micron. 
JET JCDC 1.5hp Cyclone Dust Collector Review
Hardware with peerless performance. This JET dust collector is one of the most popular models that customers choose. It comes with a 5 years JET warranty along with some nice features that any type of woodworker should look for.  All the fine dust particles are filtered through pleated material which helps capture even the smallest of particles. It has a radio frequency remote control which works up to 50 feet away. The best feature is the two-stage separation which provides more working CFM when compared to single-stage units.
SPECIFICATIONS:
Filter Efficiency: 1 Micron
MERV Value: 13
Canister Filter Length: 15-3/4 inch
Collection Drum Capacity: 20 Gal.
Motor Power: 1.5 HP
Motor Voltage: 115V
Motor Amps: 14
JET JCDC 3HP Cyclone Dust Collector Review
The JCDC 3hp has features that any woodworkers should be looking for. It has a direct mounted filter that eliminates problems caused by ridged flex hosing and bends. The pleated filter can be easily cleaned by a double paddle manual cleaning system. The pleaded bag captures particles up to 1 micron and below. A remote timer is present which can be set to have the collector run for 2 to 8 hours before shutting down automatically. It has easy to use swivel casters which make it quite manueverable. 
SPECIFICATIONS:
Filter Efficiency: 1 Micron
MERV Value: 13
Canister Filter Length: 38-3/8 inch
Collection Drum Capacity: 55 Gal.
Motor Power: 3 HP
Motor Voltage: 230V
Motor Amps: 13
JET DC-1200VX-CK3 Dust Collector Review
The DC-1200VX has a few distinct features which separate it from the other dust collectors. It has the exclusive Vortex Cone that improves chip separation so that you get less clogging within the filter thus increasing packing efficiency of the collector bag. It has high enough CFM that can rival with competitors and it features industrial type controls that are designed to be used for years. It features four casters for complete maneuverability and it's permanently lubricated, fan-cooled motors can be run continuously. A quick-connect bag system is features along with a single-stage design for maximum efficiency and quiet operation.
SPECIFICATIONS:
Filter Efficiency: 2 Micron
MERV Value: N/A
Air Flow 4″ 1200CFM
Bag Diameter: 20Inch
Bag Capacity: 5-3/10 Cubic Feet
Bag Length: 29 inch
Impeller Diameter 12inch
Motor Power: 2 HP
Motor Voltage: 230V
Motor Amps: 6/3
How To Choose The Best Dust Collector?
Before making such an important purchase it's important to know what kind of options you can choose from. We will help guide you through the process regardless of whether this is your first or fifth purchase. 
Size matters and it's literally the most important thing to look for. If you have a smaller workshop you probably won't even have enough room for an industrial-sized dust collector so choosing a smaller model will be your best choice. On the other hand, if your workshop is large with multiple power tools, picking a smaller option will not work since it won't have enough horsepower and CFM to accommodate the total workshop size. Being able to collect all harmful chips and dust will be crucial so picking a model with enough horsepower and enough CFM ( cubic feet per minute ) will help in this task tremendously. Horsepower or HP described the overall strength of the dust collectors motor and CFM described how much airflow a particular unit generates. Because of this, you have small, medium and large dust collectors to choose from.
As the name suggests, Small dust collectors are generally small and can even be wall-mounted. These models are around 3/4hp and around 650 CFM which makes them quite maneuverable and easy to use for a small shop. It's quite convenient that you can place a small dust collector almost anywhere and it will definitely be an improvement from a vacuum clear. Even though it's reliable and cheap it does have a couple of downsides such as the filter bag being a collection bag. This can cause dust to return to the shop which is something which you want to avoid at all costs. 
The medium-sized models feature around 1hp motors with 700 CFM. They are a perfect choice for workshops that have two or three power tools. These medium-sized models usually have a detachable plastic collection bag that can be easily disposed of. The dust collection bag is separate from the filter and because of this the machine is actually much cleaner, it helps improve the air quality tremendously and most importantly it keeps dust and fine particles inside the bag. Most of these dust collectors only have one inlet slot and due to this, the hose is around 15 feet. A duct system is impossible to be set up on this type of dust collector due to its lower CFP and the single inlet port. 
These are the biggest and best dust collectors money can buy and they are actually the most common ones when woodworkers have larger workshops. They are around 2 HP and can have around 1200 CFM. The size allows manufacturers to dismiss the bag style filter and use a pleated one instead. This type of filter improves the micron capturing potential to just 1. That is considered the maximum capacity possible with today's modern design. The size also allows for an easier duct system installation since the size itself is enough to support more power tools. 
Smaller workshops usually have small-sized dust collectors that the woodworkers move around from tool to tool and this works fine for the small space that they have to work with. When larger spaces are considered, a duct system is something that will work much more efficiently. The duct system will go all the way around your shop, collecting dust that has accumulated from your power tools. That means you can attach a pipe to every power tool, plug everything in inlet of your dust collector, turn on the machine and have it suck up every particle, chip and impurity from all your machines. 
Getting the best dust collector for your workshop might seem hard but that is why we have suggestions that will help you make the right choices. You can start with our JET Tools Review article which covers everything JET has to offer. We previously covered the JET dust collector lineup and reviews their 3 most famous pieces. You can also check out the JET Drill Press Lineup and review, or if you're in the market for a new table saw check out our JET Table saw review. 
image credit: https:stevesworkshop.com
Best Materials For A Duct System
There are a few really good options to choose for your duct system. We will cover each of these materials separately and share our opinion for which will work best and why. 
Most woodworkers choose to install metal ducts because of how easy they are to maintain. This is particularly the case for larger workshops and even some industrial settings. These metal ducts are OSHA approved (Occupational Safety and Health Administration). Being OSHA improved has its perks but the main advantage for metal ducts is that they have smooth walls which help dust move freely with almost no resistance and since metal is naturally grounded there is no additional fire or safety hazard precaution required. Metal ducts are the smartest choice but they are also the most expensive one. A simple Y metal section costs around $100. That Y piece helps you connect just one of your power tools, so add around 100 for each power tool you want connected on top of the total cost for the entire system of pipes. This includes the clamp locks, end cap, blast gate and even ductwork. Keep in mind that furnace ducting pipes will not work for this type of system because of the negative pressure buildup. It will collapse under it and cause chaos in your workshop. If you're choosing metal, pick the right parts.
A PVC duct system is considered the cheapest alternate. Our recommendation is to use a 4″ PVC pipe which can be found anywhere. Each component is easy to mount, has very little weight and are relatively quite cheap. The biggest concern regarding this type of design is the static electricity that builds up within the pipes. Too much of it will cause a spark that can ignite the fine dust particles which in turn will cause a fire. There are certain studies which show this as a very unlikely scenario, it's quite easy to ground the pipes using grounding kits which are specifically made for this purpose. Most people just use copper wire but installing with a grounding kit is quite easy since they are literally made to eliminate static electricity which will accumulate in this type of PVC system. If you haven't put grounding along with the risk of fire, you will get a minor shock  from time to time as well.
Having a flexible hose is an alternative option that most manufacturers can offer. It's not something we can actually recommend using since this type of system simply does not work for longer hoses. Plastic fittings are offered by manufacturers which are placed on a hose but since it's corrugated inside they actually create improper airflow and reduce the performance of the entire system by a huge margin. We suggest removing this old page from your book and upgrade to a PVC or METAL duct system as soon as possible. 
Short Review of Related Products and Accessories
JET has made some amazing products and is quite famous for its cost-effective power tools lineup. They are famous among woodworkers and metalworkers alike for their quality lineup and they sell anything from table saws, band saws, drill press, lathes and much, much more. Buying from a reputable seller is very important in this type of business so that's why we can suggest USASupplyspot, a small company that delivers high-quality machines directly to your doorstep, at a price no one can beat. We recommend sellers who we know will get the job done. If you're interested in checking out the competition of JET, you can read our article about Laguna Tools Review right here.