Complete Buyer's Guide and Unbiased Reviews of the JET Drill Press On The Market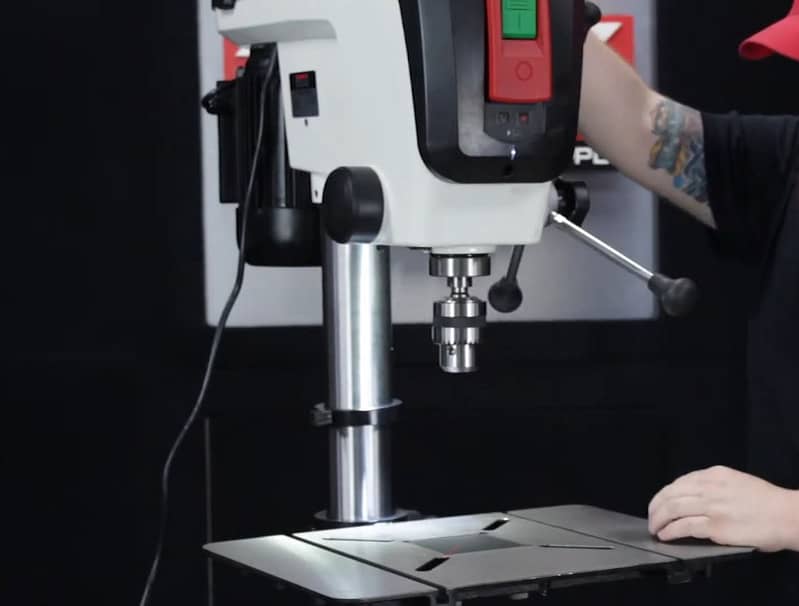 The drill press or a Drilling Machine is a tool that works by making holes in various types of surfaces. Most of the time a drill press is used in some general-purpose machine shops and work with just one spindle. If multiple holes need to be made, more spindles will be required that can make these holes identical, precise and simultaneously. 
These drilling machines serve a great purpose for woodworkers who want to increase the quality of their work and improve their overall performance when working on their projects. When you need a hole made a drill press will do the job most efficiently. JET offers great tools and you can check out our JET Tools review here.
We recommend drilling machines which are made with quality materials and have proven time and time again that they are reliable and will get the job done multiple times. We will cover the Jet Drill Press in this article and you can pick one up on this link here.
Why purchase a Drill Press?
This tool is exceptionally good for making holes in your workpiece. It doesn't matter if you're working with wood, metal or plastic if you need a hole, this is the tool that will get the job done. Unlike the hand drill, this machine is stationary and much more precise than the counterpart. If you're only working on small projects, some home repairs or similar then maybe a drill press is not for you. If you're interested in taking your work to the next level for your woodworking or metalworking project then this tool will do the job precisely. The drill will help you easily bore precise holes, help with the use of sanding attachments and countersink or counterbore holes. 
Jet Drill Press Lineup and Review
1. Jet 15" Benchtop Drill Press Review
The Jet 15″ Benchtop Drill Press is considered the smallest from the JET lineup. It will help you accomplish any project since it has a large 12-1/2″ x 17″ precision ground work table that features twin T-slot grooves and 4 table slots. 
Specifications: 
Motor: 3/4 HP 
Spindle speeds: 16
Spindle speed range: 210-3500 RPM
Spindle distance to table: 18-5/16″
Table tilt left and right: 45 degrees
Column Diameter 2-3/4″
Swing 15″
Chuck size 5/8″
Weight 154lb.
The Jet 15″ Benchtop Drill Press is far from the best thing on the market. It's a good choice for people who don't work with very hard materials and don't need too many holes made, fast. It will get the job done but it will do so at a slower pace.
2. Jet 16-1/2" Floor Drill Press Review
This 16-1/2″ Floor Drill press by JET is great for making holes in any material. It has all the modern features along with a powerful motor to help you get the job done. It will let you choose the best speed for the job so that you can go at your own pace. It's a great tool for any woodworker.
Specifications: 
Motor: 3/4 HP 
Spindle speeds: 16
Spindle speed range: 200-3630 RPM
Spindle distance to table: 29-1/8″
Table tilt left and right: 45 degrees
Column Diameter 3-1/8″
Swing 16-1/2″
Chuck size 5/8″
Drilling capacity 5/8″
This floor drill press is reliable and quite cost-efficient for the performance you get. It's far from the best thing on the market but it will get the job done for any woodworker who's looking to drill some holes. 
3. Jet 17" Standing Drill Press
The Jet 17″ Drill Press is the biggest and strongest model sold by Jet Tools. It has a sturdy cast iron head, poly v-belt drive system and overall it's just designed to outperform every other drill press. The table provides all the necessary support and the lighting is optimal, providing almost no shadows. 
Specifications: 
Motor: 3/4 HP 
Spindle speeds: 16
Spindle travels 5″ with one handle revolution
Spindle speed range: 210-3500 RPM
Spindle distance to table: 30″
Table tilt left and right: 90 degrees
Column Diameter 3-5/22″
Swing 16-7/8″
Chuck size 5/8″
Weight 187 Lbs
Poly v-belt drive system
This drill by JET is the most reliable and best drill on the market made by them. It's sought after by both amateurs or professionals alike. It provides the best possible features anyone could ever need when operating a drilling machine and because of that it's among the highest-rated drills on the market. 
Before starting out you will notice that this machine is heavy, can be considered expensive and will take up precious space in your workshop. But, while lacking in portability the drill press will make up for it in pure power and precision. The drill press design is made for precision. There is a rotating handle that controls how the spinning mechanism descends (Called a Spindle). This spindle can only move vertically and because of this motion, the hole you make will be precise and extremely easy to make. Most models even use depth stoppers which control the depth of your hole. 
What you should look for to find the best Drill Pres for you?
Most people would look at a drill press as a significant investment but there are some factors you need to take into account before deciding which one will be the best for you.  When picking the best drill press you need to look at a few key features. Such as:
 The Drill Press Type
Overall Drill Size
Drill Press Power
Drill Press Speed
Additional features 
How to choose a Drill Press Type?
There aren't too many choices for drill presses. You have a bench top model and a floor model. So how do you choose the best one? The bench top models are considerably lighter and smaller making them very portable and slightly easier to use. When looking at the floor model you will notice they are far from portable since they are very heavy but they compensate in having more power, capacity and additional features.
There are only two size elements . One of them is swing and the other is spindle travel.
When talking about swing, companies are referring to the distance between the drill press central column and the spindle, multiplied by two. This means that this will be the maximum width your workpiece can be if you want it to fit in the drill press and bore to the center.
A spindle travel is how deep a drill can move vertically down while you're rotating the handle. Smaller, benchtop models only move around two to three inches per rotation but bigger, full sized standing models can go as high as five and six inches per rotation of the handle. Consider these features when picking a drill press and deciding the size you need.
In order to properly calculate how powerful a drill is you need to calculate watts. This is fairly easy to do since every model must display these values on the name plate. Multiply amps and volts and you will get watts. The higher the number the stronger and more powerful the tool is. That means that tougher materials will take less time to drill through. The best and largest floor model type drill is around 1,000 watts of power while the bench top models only have around half of that. 
Almost all drill presses have a variable rotation speeds in order to help the worker drill most efficiently. Different drilling speeds are required for different materials and the higher end models offer much more variety. While the bench-top models usually offer up to five or six speeds to choose from the higher end floor models offer up to 16. This is important when drilling harder material because raw speed won't get you anywhere. You need to drill slower in order to actually make a hole where you want one made. 
Best Uses for a Drill Press
Using a drill press can seem quite difficult but believe us, it's quite easy. It is essential for drilling accurate holes if for example you need a coat rack, wooden toys, sanding rough edges with a mop spinning in a drill press. When you look at any woodworking project, if it needs two pieces attached together and glue won't do, you need a hole and you need a drill press. Here is a short list of some common things a drill press will help you with: 
Building a coat rack
Make Toys
Hide screws under wooden plugs
Stair railings
Dowel joints that need holes
And much, much, much more
It was around 35,000 years BC when homo sapiens actually figured out that using rotary tools is extremely beneficial. A bow drill is something which was traced back about 10,000 years ago and it's considered to be the earliest type of "machine" for drilling holes in other materials. They figured out that when you tie a cord on a stick and then on a bow they are able to drill much faster. 
A core drill was next to be made , developed in ancient Egypt around 3000 BC. But the romans made the pump drill which had a vertical spindle aligned next to a horizontal piece and they used a flywheel to maintain maximum accuracy. Technology for drill improvement slowed down around this time when around the 13th century copper was added on the drill bit in order to drill harder materials easier. 
Once the electric motor was invented the electric drill soon followed and was actually invented by Arthur James Amot in Australia who patented it in 1889. It didn't take long for the first portable handheld drill to be made, that happened in 1895 by the brothers Wilhem & Carl Fein in Germany. In 1917 Black & Decker made the first trigger-switch and pistol-grip portable drill. After these advancements during the entire century the electric drill has only improved in power, design and efficiency. A lot of different types and sized were made in order to accommodate a larger group of consumers. 
Every Type of Drill that has existed
Over the centuries the drill has improved in many different ways where most would be powered manually but with the addition of electricity or compressed air manual power wasn't required anymore. 
The earliest forms of drills which have been used Pre-History were used to either make fires much more easily or to make holes in hard objects. Such primitive designs are 
Awl – A shaft is twisted with the users hand 
Hand Drill – The shaft spins by performing a rubbing motion with the users hands 
Bow Drill – The shaft is attached with a string on a type of bow and moved in one direction back and forth 
Pump Drill – The shaft is able to spin by pushing down on a hand bar and also by a flywheel 
These types of drills have been extremely common throughout the centuries and most are still used today. Such drills are :
Auger – Wood cutting blade with a T-Shaped handle attached to a straight shaft 
Brace – Similar to an auger except this one is powered by a crankshaft 
Gimlet – Small tool for drilling holes without splitting the wood
Bradawl – almost identical to a screwdriver except it has a drilling point 
Wheel brace – The eggbeater drill also called a hand drill and most commonly known as a Lug wrench 
Cranial drill – most commonly used in skull surgery 
Push – Drill that uses a spiral ratchet mechanism 
Pin chuck – small handheld jeweler's drill 
These are the most common drills today which are powered by an electric motor or by compressed air. All these drills are very common in woodworking workshops and machining shops. They are : 
Pistol-grip drill – It's the most common hand-held power drill type 
Right-angle drill – Very similar to the pistol-grip drill except this one is for drilling or driving screws in tight spaces 
Hammer drill – It's primarily used for drilling masonry by combining both rotary motions and hammer actions which can be engaged or disengaged when needed 
Drill press – A very large power drill that has a rigid holding frame that can either be mounted on a bench or standalone 
Rotary hammer – Similarly used in masonry like the hammer drill except it has a dedicated hammer mechanism that is separated from the rotation mechanism. Can also be used for concrete.
It's fairly obvious to see how a simple stick, with the right motion, can puncture a hole. Drills have existed for centuries and since then they've only improved. From simple sticks and stones to electricity powered drilling machines we've covered all of it. 
The Jet Power Drill is something that any amateur or professional woodworker should include in their lineup but if you're still not sure about what else JET can offer you, you can see our previous jet bandsaw review article or even our jet table saw review article. Time and time again they've proven that they can make cheap, reliable and easy to use tools for any woodworker out there.