Helping Tradesman to Build Skills & Make Smarter Buying Decisions
Bandsaw, Table Saw, Drill Press and Other Product Reviews & Buyers Guides
I review some of the most popular brands in woodworking and some of the most important pieces of machinery you will ever buy. When reviewing tools, my hope is that I make the review simple enough for newcomers to woodworking to have a thorough understanding of what they are buying and sophisticated enough for veteran cabinet makers, contractors and woodworkers to be able to benefit by seeing which brand has the most power, best dust collection and fanciest features.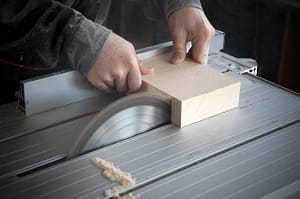 Complete Buyer's Guide and Reviews of the Best Cabinet Table Saw On The Market (5 Top Saws Reviewed) Reviews by woodworkers for woodworkers For professional
Read More »
Woodworking Manufacturer Reviews
If you are a newcomer to woodworking and you want to take these pricey pieces of equipment for a test drive before getting married? I hope you'll be able to find my manufacturer and equipment reviews helpful. I write these reviews in hopes of giving candid feedback on the saws, dust collectors, routers, drill presses and more.
Selecting your first commercial equipment piece is a big decision. Many woodworkers will find a brand that they just love and then they end up picking all of the subsequent pieces of equipment from that same manufacturer. As I review these companies and tools, know that NONE of the manufacturers have paid me a dime and my endorsement is not for sale.
Laguna Dust Collector Review – Complete Laguna B|Flux, C|Flux & Cyclone Reviews The more woodworking you're doing the more dust is accumulated in your workshop
Read More »
Complete Review of SawStop Table Saws and Accessories SawStop commercial, industrial and hobbyist table saws and woodworking equipment reviewed. SawStop burst onto the scene with
Read More »
Complete Laguna Tools Review Company & Product Overview Laguna Tools commercial and industrial level woodworking and metalworking equipment, service and warranties reviewed. Laguna Tools is
Read More »
Laguna Lathe Review – Complete review for Laguna Revo 15|24, 18|36 & 24|36 wood lathes Lathes have been around since the ancient times with the
Read More »
Laguna Table Saw Reviews – The Complete Lineup From Fusion F1 to F3 Laguna makes some of the most popular tools in woodworking. Amateurs and
Read More »
Laguna Band Saws Reviewed – Complete Lineup From 14|12, 14BX, 18BX & Industrial Models Laguna makes some of the most popular tools in woodworking. Amateurs
Read More »
Woodworking Projects & Tips
My newest section is a project ideas, tips and tricks section. I hope that I'll be able to share with the woodworking community what my experience has been with various projects. What wood projects are a fit for newbies, what equipment will you need for each and if you are looking to do home improvement, what can you do yourself and what do you need a contractor for.
How to Refinish Your Hardwood Floors – A Complete Guide Make your hardwood floors look beautiful and new again Has your floor lost its lustre?
Read More »
Types of Wood to use for your tables, cabinets and other woodworking projects Whether you are a newcomer to woodworking that is still trying to
Read More »
Complete Beginner Guide on How To Build Cabinets For Your Kitchen or Bathroom Whether you are looking to remodel your kitchen on a budget or
Read More »